Elections to the National Executive 2002
Nominations close January 11th 2002
All candidates must be nominated by at least one Association
Waltham Forest is part of a 4 seat constituency called District 27/. It comprises all the the Associations in OUTER LONDON.
On November 6th Waltham Forest Association duly nominated:-
Nick Grant - Ealing Association
Dave Harvey - Croydon Association
Sue Kortlandt - Havering Association
Linda Taaffe - Waltham Forest Association
as our candidates for the National Executive
We call on all Outer London associations to support these cnadidates by nominating them as well.
Linda Taaffe - Waltham Forest Deputy Secretary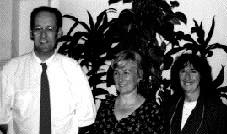 Dave Harvey, Linda Taaffe and Sue Kortlandt
These Pages will be covering this Election